About Meyer Nursery & Orchards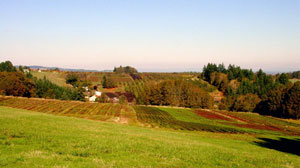 Meyer Nursery is wholesale grower with deep roots in Oregon's temperate Willamette Valley, in the west hills of Salem. It is an ongoing family owned business since the 1940's, growing at the same location. The nursery began with bare root stock in the 1980's and expanded into specimen trees grown in Root Control Bags in 1985. A new product line of fabric containers- Smart Pots- in 2004 was potted up and on the market in the spring of 2005.
Bare Root and Specimen material cover over 200 acres. The newer Smart Pot program has 5 acres allotted for the start up phases. The orchard side of the business, with brining cherries and gooseberries covers another 80 acres.
Oregon State University has provided the backbone of knowledge for the nursery. Don Meyer has a horticulture degree. Shirley Meyer graduated with a degree in botany. And Juli Meyer has a degree in microbiology.
Keith Meyer has an Associates degree from Chemeketa Community College in Automotive Technology and the school of "hands-on" which keeps everything and everyone humming and running around the nursery.
Staff
A Brief History

Meyer Nursery began as a family farm. Fred Meyer purchased 141 acres in 1941 for growing prunes and cherries for local valley processors. Additional land was purchased across the road from the original homestead after an especially good year. Gooseberries were added in 1952 and strawberries came a few years later.

In 1957, after two years in the military, Fred's son, Don returned to the family farm and with his wife Shirley began to take a more active role in the farm. And from then on things began to grow; more orchards and fields were planted. Shirley became the controller in the paper portion of the enterprise. Farm and family continued to grow and in 1958, Keith Meyer, the first of their three children was born.
In 1980 after several years of poor returns in fruit Don decided to explore and grow into a new enterprise: growing bare root flowering cherries and some apples on contract. Soon additional flowering, shade and fruit trees were added to their list of material.

In 1980 Juli Meyer, fluent in Spanish, was hired on as a crew leader in the gooseberry fields, and worked in the fields budding and training trees. Keith and Juli were married in 1982. Two years later Juli was promoted to office manager.
In 1985, Don tried the first Root Control Bag for growing specimen trees on a piece of their hill property. Soon after the Specimen Trees became a good portion of their nursery business.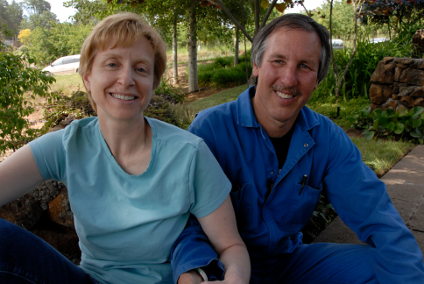 In 1987, Keith returned to the family business as their chief mechanic, maintaining the custom harvest machinery and nursery equipment. In 1988 the business was expanded with the addition of new fields. In 1994 the business was incorporated and Keith Meyer became the Vice President of Operations.
Juli Meyer became the Business Manager in the fall of 2004, and she continues to see the nursery through its future growing pains.
In the spring of 2004, Keith and Juli began exploring the feasibility of growing some of their own starter material. That summer, with the help of their four children, the project was underway and the cuttings were beginning to grow roots.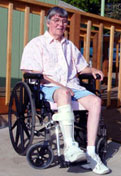 2005 was a year that brought some changes for the nursery. In April, Shirley Meyer had a stroke and retired from the business. With one loss came the addition of a new, and Brian Adams joined our staff to promote customer relations and facilitate in-house sales. The nursery also began to offer trees planted in Smart Pots, an above ground fabric container.
In 2006 we are working to expand our sales line to include shrubs, perennials and conifers in cooperation with some carefully selected nurseries.